Every May, led by the Administration for Community Living, our nation recognizes the contributions of older adults across the county. Originally titled "Senior Citizens Month", Older Americans Month was established in 1963 by President John F. Kennedy and members of the National Council of Senior Citizens. This year's theme is Make Your Mark! Celebrating the continuing influence and impact of older generations, the focus of 2020's Older Americans Month is on encouraging and highlighting the significant contributions seniors make in our communities. Their experience, talent, and insight is of benefit to both their families, their peers, and their neighbors.
Today, there are over 44 million people over 65, whose lifework is deserving of celebration and honor. Many retirees are finding invigorating second careers, volunteering to help others, discovering new interests, and continuing to pursue their dreams. Staying active as you age can help a person's mental and physical well-being, provide structure and routine, connection with the community, help prevent isolation and loneliness, and, in some cases, even provide some extra income.
Many older Americans keep working well past retirement age, which is what Sonoma Hills lead concierge, Pat Valone has done. Pat has been at Sonoma Hills for 18 years, serving in many capacities including Activities Director and Managing Director. Throughout all her time at Sonoma Hills, she's found that her current part-time job of Concierge is not only fulfilling but gives her the freedom to enjoy her other passions. She has been a mentor, volunteered for the Council on Aging and the Sonoma Post-Acute Nursing Home, and drove seniors through the My Ride Program at Vintage House in Sonoma.
Pat's husband, Roberto, has also chosen to continue working. As the operator of Roberto's Hair Salon at Sonoma Hill, he has provided residents with beauty and barber services for the past six years. Growing up in Brazil, Roberto's Uncle would take him along on visits to the poorer neighborhoods where he would offer haircuts to those who couldn't afford it. These trips of his youth taught Roberto empathy and compassion for the less fortunate. When he and Pat visited Bal Ashram four years ago, a home for orphaned children in India, they were inspired to do something to help. Every year since, they have collected donations and held rummages sales, with the proceeds going to the children at the orphanage.
Roberto and Pat Valone are not the only older adults who volunteer. Sonoma Hills resident Patty Kelly, a retiree, has been volunteering her time for over fifty years. When the Managing Director at Sonoma Hills asked her if she would be interested in "overseeing" the resident store in 2014, she said it seemed like the perfect fit for her. "Plus, it was a great commute to work," Patty chimed. An important facet at Sonoma Hills, the store Patty runs is stocked with convenient essentials and unique gifts, providing residents with resources without having to leave the comfort of their community. While most of the items are sourced from other retail stores around Sonoma, Patty purchases some items at the Bel Marin Keys annual warehouse sale. The store, open three days a week is staffed by Patty and other resident volunteers. Patty said she appreciates the support from the staff, the amazing volunteers, and the artist that bring beautiful cards, paintings, and jewelry, "but it's really the residents that make it work". Featuring various works of art, several residents make cards that are available for purchase at the resident store.
Other residents give many hours of their time each week to facilitate services and activities for all residents to enjoy. The Sonoma Hills resident "librarian", Kay Loutzenheiser, said she has always loved books and can remember weekly visits to the library with her brother and mother from the time she was in kindergarten. She has always valued uninterrupted reading so when she moved into Sonoma Hills almost six years ago, she was delighted to volunteer to organize and manage the library for the use of the Sonoma Hills community. Kay said, "We are so lucky to have such a lovely library and I'm so happy so many residents use it! Not only do they read our books, but many donate books as they settle in here." Kay says she is looking forward to more happy years as the Library Volunteer here at Sonoma Hills.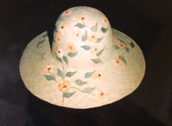 Berti Cardnaux teaches an art class every Saturday for the residents at Sonoma Hills, offering her expertise to those who'd like to learn. She said she has enjoyed drawing and painting since childhood and was often asked by her teachers to illustrate invitations and programs at school. But since Berti grew up in Germany during and after World War II, she could not convince her family to invest in art education. Berti said they talked about "starving artists" and sent her to business school instead. She knew what her true desire was and as soon as she finished school, she started earning money to enroll in night classes offered by painters and illustrators. After moving to the United States, Berti started taking classes at the Art Institute of Chicago, and with various private teachers and artists when she and her family moved to California. Though she tested and experimented with various mediums, she says her favorites to this day are watercolor and chalk pastels. She enjoys painting portraits, still life, and the flowers that she grows in her garden. Berti and her husband Rene still own a ranch in Petaluma and their harvest of organic fruit from their fruit trees show up in the dining room for the resident's enjoyment.
One resident who frequently takes advantage of the Sonoma Hills art class is Avril Pierce. Avril started painting many years ago, after taking an art class in Santa Rosa with three of her friends. This experience inspired Avril to paint flowers on straw hats, gardening gloves, and mailboxes. She started painting hats and gloves for Parsley's in Tiburon, working there part-time for 24 years. In addition to painting, Avril also volunteered at Paul Daly Tennis Club, working with kids, organizing tennis tournaments and other social events. Before moving to Sonoma Hills in 2019, Avril was on the social committee at her former residence, in charge of the decorating for all parties and events. Since moving to Sonoma Hills, she has been crafting cards and painting on glass, with many of her finished projects on sale at the resident store. Of her artful passion, Avril tells us that her husband would always say, "If it didn't move, she would paint it!"
Staying active in one's church is something many older Americans continue to do. Sonoma Hills resident Genny Paulson volunteered to teach the Communion CCD class at St. Francis Solano Catholic Church for many years and continues to serve as a Eucharist Minister at the 11 am Sunday Mass.
Older Americans have much wisdom to share with future generations. It is important to listen to and learn from those that come before us. Believing this, many older Americans are writing down their life story and making their mark, in pencil, pen, or printer ink, to pass on to others. Reminiscing on the past, according to recent research, can improve the confidence of older adults and provide them with the ability to better confront new challenges. After the encouragement of her son, Sonoma Hills resident Haesook Lounibos started jotting down memories from her lifetime. What follows are a few of her life's stories. 
"Yummy Cookies"
By Haesook Lounibos
My mother was a kind, gentle, and understanding person. How I loved her! She was also very much a person of etiquette, and she thrust it upon all her children. 
If I remember correctly, I had become one of her victims of this forced etiquette. It started at the young and tender age of five and lasted until I was eight years old. The proper etiquette included the following actions: love, kindness, obedience, respect, politeness, bowing to the elderly, speaking to the elderly, only if you are spoken to, etc.
I was an independent child. It was quite difficult for me to learn all the above, but I tried very hard to learn them to please my mother, because it felt so wonderful whenever she gave me not simply a small hug but the biggest hug in the world, whispering in my ear, "You are a good girl".
As I reminisce and write about my mother and me, I can remember so vividly visiting her friend's house. She served us hot green tea and cookies (yummy!) I always welcomed cookies anywhere and anytime! The problem was that the grown-ups talked and laughed so much and for so long (in my estimation, anyway) before we were actually able to enjoy the treat.
The worst of my mother's etiquette rules was that I had to say "no, thank you" not only once…not twice…but three times (can you imagine that?) before I was allowed to eat those sweet cookies. Wasn't that absurd? "Who said that my mother was an understanding person," I pondered. After all, I was now only a six-year-old girl who was eager for the first bite of yummy cookies, never mind the tea. But, then, when she gave me her approving and "proud of you" smile, it was worth the agony I had borne.
Mother, I miss you. I thank you for all the etiquette lessons you have given me. I still count three times and I am sixty-five years young! I shall have to remember to offer you at least a fourth time! The terror of being believed and not getting a cookie!
---
I Will Come Back, Mom
By Haesook Lounibos
Young at heart and life, I was very much in love with my young man. Since he was an American military man, we had to go through much red tape between the Korean and U.S. government in order to marry. The most difficult problem was with my family, especially knowing that we would have to leave them behind.
I was as frightened as a little baby bird, trying to fly out from a pond into which it fell when I had to ask my parents' consent to marry not a Korean man, but a young foreigner. After all, they were a very proud loyal family who faithfully followed ancestral tradition. They gave me love, comfort, and education to understand and to live all those responsibilities. Realizing how difficult and painful it would be for them to accept such a great disappointment in me, I tried to erase my mind: forget my young man, forget myself, and forget the fact of having known each other. I couldn't!
Before my parents, head down, as I explained my desire and hoping to be able to see their reactions from the corner of my eye, I saw my mother's face with streams of tears running down. I wanted to die! How cruel of me to hurt my loving parents who had given me so much love! I was ashamed of my selfishness. When I felt my mother's tender arms around my shaking shoulders and my father's large strong hands patting my heavy head, I could not speak but said to myself silently, "I will come back, Mom!"
It was a cold winter morning. My mother was waving a small, wet, snowy-white handkerchief as the taxi drove us away from her small figure. I cried and cried, saying. "I will come back, Mom!" again and again.
Sometime later, I began my new life with my young family in the U.S. Yet, I suffered severely until I met my second husband who fulfilled my hidden dream and desire to return to my family. It has been eighteen years since I said, "I will come back, Mom!"
It was a beautiful day. We were at the graves where my parents, grandparents, brother, and sister were resting. I said, "Mom, I am back…" The blue sky turned to grey and started crying with me and my family. I shall always remember the tears from heaven above which were my mother's happy and sad tears. On every rainy day, I still and always will ask myself, "Has mother seen me, my husband, and her grandsons?"
---
My Son (written in 1980)
By Haesook Lounibos
So often I will be gazing at your baby picture in my study room, hoping to hear your voice from your little lips. You look so soft and so cute with your dimples. It has been 11 years since you closed your eyes. You were only 12 years old! The time passes swiftly like the wind in the winter by me, and the times have changed me immensely. But our times and the memories you have left for me have not changed and never shall.
I reminisce about our life together every day: while I am cleaning, cooking, sewing, working, studying, and especially while I am driving, and before I fall asleep. My son, I miss you; I want to hold you; I want to kiss you on your dimples! Sometimes I ask myself, "Am I a selfish mother?" After all, God gave me you as a very special angel, but my heart aches from wanting to be able to see you and to speak to you.
I remember the first cry into the world. Oh, how tiny you were! I felt so sorry when I gave you your first spanking, and I had to make you the cutest play pants saying "Don't spank me!" Do you remember your first birthday cake and X-Mas Day with Santa Claus? I was so heartbroken when the kindergarten teacher took your little shaky hand away from me. I cried then, and I cried when you graduated from elementary school with honors. I still have your baseball bat, your school awards, and your scout uniform. You were so handsome in your scout uniform!
My son, did I ever thank you for being father and mother to your brothers while I had to work so many hours away from you? I had to make some income for us to survive, and you had to change diapers, feed, and take care of your brothers for me. How difficult it must have been at such a young age! Why couldn't I be able to do everything? I didn't need any sleep, did I? I wanted to give you a much better life, and the best future possible, remember that?
My son, please forgive me for not fulfilling the dream I had for you. Please forgive me if I have done anything to hurt you. I love you so very much! My son, I want to say, "Thank you, God, for giving me you as a very special angel".
No matter what you choose, choose something that will help keep you happy, healthy, and connected. Keep learning and growing! We invite you to celebrate Older Americans Month and Make Your Mark in May!